Munich Security Conference 2019
25th March 2019 - 180 days ago

From February 15th – 17th the 55th Munich Security Conference took place. This year more than 600 international decision-makers engaged in an intensive debate on current and future challenges. The Munich Security Conference (MSC) has developed into the world's leading forum for the debate of international security policy. Repeatedly rated as "Best Think Tank Conference" in the world, the MSC provides a one-of-a-kind opportunity to discuss policy at the highest level in a protected and informal space.

Before the conference MSC Chairman Wolfgang Ischinger stated: "When looking at the current state of international affairs, it is difficult to escape the feeling that the world is not just witnessing a series of smaller and bigger crises, but that there is a more fundamental problem.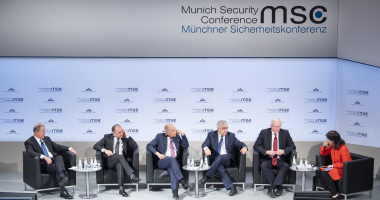 Wolfgang Ischinger
Chairman of the Munich Security Conference
A new era of great power competition is unfolding between the United States, China, and Russia, accompanied by a certain leadership vacuum in what has become known as the liberal international order."
Experts from across the globe discussed the future of arms control and co-operation in defence policy. The intersection between trade and international security was examined, as were the effects of climate change and technological innovations on international security. Among the participants this year were more than 35 heads of government and heads of state, including German Chancellor Angela Merkel, U.S. Vice President Mike Pence, Member of the Political Bureau of the Communist Party of China Yang Jiechi, Russian Foreign Minister Sergey Lavrov, High Representative for Foreign Affairs and Security Policy of the European Union Federica Mogherini, and Nobel Peace Prize Laureates Tawakkol Karman and Beatrice Fihn. A truly global affair.
CSA News
Joschka Fischer delivered excellence itself. Our top corporate investors were totally won over.

Klaus Schweinsberg's message was perfect for our management meeting in Germany, totally engaging.

Our group meeting loved Sahar Hashemi, she was totally engaging, inspiring us all with her great story.

Don Strickland had excellent content in his speech and gave us some great examples to follow.

José María Figueres has an excellent presence and quality, he had great interaction with the audience.

Daniel Sieberg was excellent. He tailored his speech perfectly to our youth audience - top quality.