Dr. Parag Khanna
The World's Leading Geo-Strategist and Author
Parag Khanna is a leading Global Strategy Advisor, world traveler, and Best-Selling Author. He is Founder and Managing Partner of FutureMap, a data and scenario based strategic advisory firm. Parag has been an adviser to the US National Intelligence Council's Global Trends 2030 program.
"Young Global Leader of the World Economic Forum"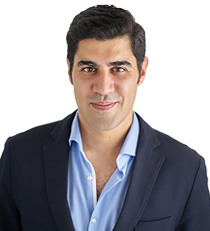 In detail
Dr. Khanna holds a PhD in international relations from the London School of Economics, and Bachelors and Masters degrees from the School of Foreign Service at Georgetown University. In 2017 he was awarded a Richard von Weizsaecker fellowship of the Robert Bosch Academy. He has served on the Singapore government's Committee on the Future Economy. Dr. Khanna was named one of Esquires "75 Most Influential People of the 21st Century," and one of fifteen individuals featured in WIRED magazine's "Smart List." He has been honored as a Young Global Leader of the World Economic Forum and has served on the WEF's Global Future Council on Mobility, Global Agenda Council on Geo-economics. He appears frequently in media such as CNN, BBC and CNBC.
What he offers you
Dr. Khanna lectures frequently at international conferences and provides executive briefings to government leaders and major corporations on global trends, systemic risks, future scenarios, economic master planning, emerging market strategies and technological disruptions.
How he presents
His tailored roadmaps provide wise and pragmatic guidance to decision makers from business and organisations around the globe.
Languages
He presents in English, German, French, Spanish and Hindi.
Want to know more?
Give us a call or send us an e-mail to find out exactly what he could bring to your event.
How to book Dr. Parag Khanna?
Simply phone or e-mail us.
Topics
Connectography
The Future of Globalisation: Strategic Trends, Economic Competition & Technological Innovation
Collective Leadership in a Turbulent Age
The Global War for Talent
Billions of People, Trillions of Dollars: How Asia Will Shape the Next Decade
Rise of the Info-State
Publications
2019
The Future is Asian: Commerce, Conflict and Culture in the 21st Century
2017
TECHNOCRACY IN AMERICA: Rise of the Info-State
2016
Connectography: Mapping the Future of Global Civilization
2012
Hybrid Reality: Preparing for the Age of Human-Technology Co-Evolution
2011
How to Run the World: Charting a Course to the Next Renaissance
2008
The Second World: Empires and Influence in the New Global Order
Microsite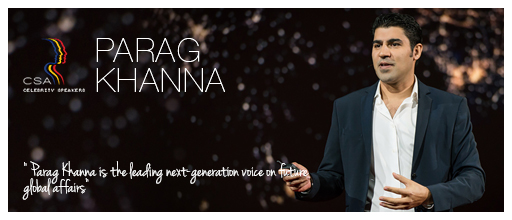 May we help?
To discuss how we can help find the right speaker for your organization, call us on
0044 845 216 0100
Related links