Prof. Eddie Obeng
Founder of Pentacle Business School, World Authority on Project Management
Professor Eddie Obeng is Founder Director of Pentacle the world's first virtual business school and the first organisation to offer an integrated management approach specifically designed to meet the challenges of our fast changing, complex 21st Century.
"Energy meets thoughtfulness, innovation meets practicality - in one man"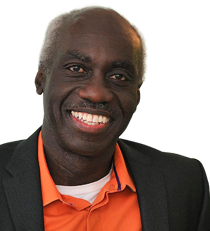 In detail
In addition to founding Pentacle, Eddie established QUBE, the world's best 3D learning environment. He was previously an Executive Director at Ashridge Management College, having begun his career with Shell. Prof. Obeng pioneered the concept of the 'New World' throughout the 1990's. He and his team have spent the best part of a decade re-writing the fundamentals of business management to create their own coherent, joined up New World approach. They have challenged all the established thinking from strategy as environmental fit to 'hero' leaders and re-interpreted the needs for the 21st century of complexity and fast change.
What he offers you
Using his extensive experience and insights Eddie will challenge your perceptions and help you to see the new reality. But more than just 'talking concepts' he will use examples from real life client assignments to illustrate and explain, proving, in his words that "The future is now because most of us are already late!".
How he presents
Eddie is an exciting, energising, thought-provoking, humorous and highly inspirational speaker who is never afraid to be controversial. He is also a great presenter.
Languages
Eddie presents in English.
Want to know more?
Give us a call or send us an e-mail to find out exactly what he could bring to your event.
How to book Prof. Eddie Obeng?
Simply phone, fax or e-mail us.
Topics
Human-Machine and AI: People-Centred Future of Work
Digitally Transform Successfully
Use Virtual Reality for Flexibility and Scalability
How Navigate Global Uncertainty
How to Increase Productivity and Get Aligned
Speed of Delivery in Turbulence
My Unedited Life Story in a Digital Business
Testimonials
Eddie was excellent. He is a passionate, lively and humorous presenter, along with being dynamic, energetic and funny - Marketing Communications Agency
Publications
2010
Innovation: It's a Project Jim, but not as we know it!
2008
The Complete Leader (with Christophe Gillet)
2007
THE NEW WORLD series Who Killed the Spark?
2006
Cybersense
2002
Money Making Machine
2002
Perfect Projects
Video
May we help?
To discuss how we can help find the right speaker for your organization, call us on
0044 845 216 0100
Related links