José Maria Figueres Joins Carbon War Room As New President
29th March 2012 - 3750 days ago

The Carbon War Room is honored to welcome Jose Maria Figueres, former President of Costa Rica, as the new President of the Carbon War Room, taking over from former CEO Jigar Shah, founder of SunEdison.

Jose Maria Figueres is an internationally recognized leader in the achievement of sustainable development goals. He served as President of Costa Rica from 1994 to 1998, becoming the youngest Latin American head of state in modern times. As President he created a comprehensive national sustainable development strategy combining sound macroeconomic policies, strategic investments in human development, and a strong alliance with nature. For his pioneering work he received the first ever Global Environmental Facility Leadership Award in 1998. In 2000, President Figueres joined the World Economic Forum as a Managing Director, and later became its first CEO. More recently. Jose Maria has been highly active in both the commercial and civic sector, including serving as Chairman of Carbon War Room.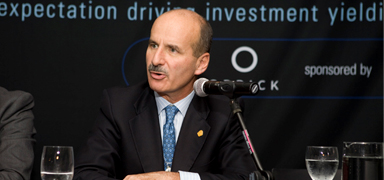 José María Figueres Olsen
Former President of Costa Rica, Co-Founder Ocean Unite
"I am thrilled to be joining the Carbon War Room in the role of President - and help realize the vision that Sir Richard and the Board tasked it with back in 2009." said Jose Maria Figueres. "My experience in Costa Rica taught me a great lesson: It may be government that sets the targets and mandates on carbon, but only entrepreneurs, business and the market can bring about these reductions. The Carbon War Room has made amazing strides in the past three years in shipping, energy efficiency and more. Having watched with pride from the board, I look forward to stepping into the executive role, and leveraging early successes to make the organization an important global force for good'.

This transition comes at a crucial moment in the Carbon War Room's development - as it moves from a young, US-based non-profit, founded by Sir Richard Branson in 2009 and incubated by Virgin Unite, to an accomplished international organization with a clearly defined role to accelerate profitable, gigaton-scale, climate change solutions. Jose Maria begins his new role with the Carbon War Room immediately.
CSA News
Joschka Fischer delivered excellence itself. Our top corporate investors were totally won over.

Klaus Schweinsberg's message was perfect for our management meeting in Germany, totally engaging.

Our group meeting loved Sahar Hashemi, she was totally engaging, inspiring us all with her great story.

Don Strickland had excellent content in his speech and gave us some great examples to follow.

José María Figueres has an excellent presence and quality, he had great interaction with the audience.

Daniel Sieberg was excellent. He tailored his speech perfectly to our youth audience - top quality.