World Economic Forum Focuses on Leadership
24th January 2017 - 397 days ago

The World Economic Forum Annual Meeting took place in Davos last week. For over 40 years, this event has been the foremost creative force for engaging the world's top leaders in collaborative activities to share the global, regional and industry agendas at the beginning of each year.

The theme of Davos was 'Responsive and Responsible Leadership' and focused on four key leadership challenges for 2017: strengthening global collaboration, revitalising economic growth, reforming capitalism and preparing for the Fourth Industrial Revolution.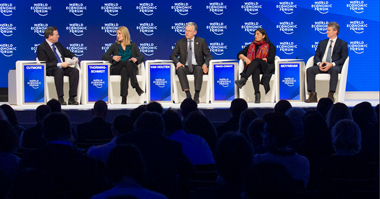 Dambisa Moyo
International Economist & Global Bestselling Author
Global economist and author Dambisa Moyo attended Davos and took part in two panels, covering 'Governing Globalization' and 'Natural Resource Scarcity'. Here is an article Dambisa wrote recently on how we can give globalization a chance.
Noreena Hertz, renowned economist and strategic thinker, writes here about Theresa May's speech at Davos, where May reiterated her vision of a 'Global Britain open for business'.
Among others who took part were Noreena Hertz, Joseph Stiglitz, Lynda Gratton, Wolfgang Ischinger and Nicholas Stern.
CSA News
Joschka Fischer delivered excellence itself. Our top corporate investors were totally won over.

Klaus Schweinsberg's message was perfect for our management meeting in Germany, totally engaging.

Our group meeting loved Sahar Hashemi, she was totally engaging, inspiring us all with her great story.

Don Strickland had excellent content in his speech and gave us some great examples to follow.

José María Figueres has an excellent presence and quality, he had great interaction with the audience.

Daniel Sieberg was excellent. He tailored his speech perfectly to our youth audience - top quality.