Dambisa Moyo – An Intellectual Force For Our Times
14th June 2016 - 618 days ago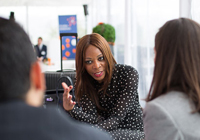 Dambisa Moyo is an extraordinary global economist, author and investor in the future. She advises companies, corporate boards, CEOs and management on investment decisions, capital allocation and risk management. Over recent years she has been awarded the Hayek Lifetime Achievement Award, Thinkers 50 Thinker of the Month and became a World Economic Forum Young Global Leader. She has also been on Handelsblatt's The 25 Most Influential Global Economists list and TIME's 100 Most Influential People.
Recently Dambisa attended the 46th St Gallen Symposium in Switzerland, which is a global gathering of leaders of today and tomorrow, providing a setting for relevant debates. This year the topic was 'Growth – the good, the bad and the ugly'.
Dambisa Moyo
International Economist & Global Bestselling Author
In addition, earlier this month Dambisa spoke on the state of the global economy at the EY World Entrepreneur of the Year in Monaco. In upcoming events Ms Moyo will participate in the Dalkey Book Festival with Yanis Varoufakis and Bob Geldof among others. Whatever Ms Moyo chooses to participate in people listen and learn; she is truly an intellectual force for our times.
CSA News
Joschka Fischer delivered excellence itself. Our top corporate investors were totally won over.

Klaus Schweinsberg's message was perfect for our management meeting in Germany, totally engaging.

Our group meeting loved Sahar Hashemi, she was totally engaging, inspiring us all with her great story.

Don Strickland had excellent content in his speech and gave us some great examples to follow.

José María Figueres has an excellent presence and quality, he had great interaction with the audience.

Daniel Sieberg was excellent. He tailored his speech perfectly to our youth audience - top quality.